Greg Norman, Founder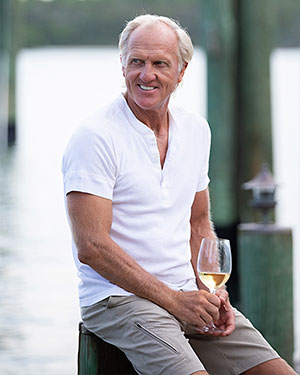 Arguably the most successful athlete-turned-businessman in the world, Greg Norman is known as much for his entrepreneurial spirit in the boardroom as his dominance on the golf course.
The internationally renowned "Great White Shark" won more than 90 tournaments worldwide, including two Open Championships, and he holds the distinction of defending his No. 1 position in the world golf rankings for 331 weeks, the second-longest reign in history. As one of the most prolific players in the game's history, his career culminated in 2001 when he was inducted into the World Golf Hall of Fame with a higher percentage of votes than any other inductee in history.
Greg Norman now transcends the game of golf, with over a dozen companies around the world bearing his name and the iconic shark logo as part of the Greg Norman Company, which he leads as Chairman & CEO. His internationally recognized brand boasts more than 100 golf course designs across six continents, a global real estate collection, award-winning wine, golf-inspired lifestyle apparel and a diverse investment division. Across all facets of business, the Greg Norman Brand consistently delivers the quality that his name is synonymous with and continues to inspire people to attack life.